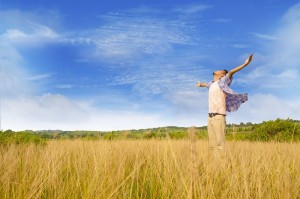 "God be merciful to us and bless us, And cause His face to shine upon us. Selah." (Psalm 67:1)
In Part 1, we saw that the writer of this Psalm is after something.  Above anything else he could wish for, this man wants the blessing of God.
He knows that God's blessing enriches our lives in ways that the world cannot match.
And we noted that it is God's very nature to bless. He wants to give His blessing, but it is not automatic. In Part 2 we discussed the need for a person to have this Psalmist's desire for God's blessing. To go after it.
Now, there are still a couple of words to said in the way of warning. It's possible to have a desire for God's blessing, but to forfeit it through carelessness.
God's Blessing Can Be Squandered
If we were asked, we'd all say we'd like to have God's blessing. But many people have ended up squandering what God might have done in their life.
We talked already about Jacob. Jacob's brother Esau teaches us that God's blessing can be squandered, doesn't he? Esau was born squarely in line for the blessing. It was his by birthright. His father was eager to bestow it all on him. But he squandered it. The Bible says that later in life he lived with terrible regret. He tried to come back and repent – he wept with remorse, and wished to go back and seek the blessing of God – but it was too late.
"For you know that afterward, when he wanted to inherit the blessing, he was rejected, for he found no place for repentance, though he sought it diligently with tears." (Hebrews 12:17)
What a terrifying thought – that the blessing of God can be squandered.
And then another thing. You need to desire and seek the blessing of God, and keep your eye on the prize, because, not only can God's blessing be squandered, but …
God's Blessing Can Be Hindered
You may want the blessing of God in your life, but if you don't watch how you live you can jeopardize it. God cannot just bless any old way you choose to live.  If you choose to live contrary to God's Word, how can He bless that?  God wants to bless you – and you want to be blessed – but you can do things that block God's blessing in your life.
Let me give you a short list of things that the Bible is very clear will hinder God's blessing in your life …
| Hinders His Blessing | Attracts His Blessing | |
| --- | --- | --- |
| Hinders His Blessing | Attracts His Blessing | |
| Independence / self-will | Fellowship with God | Isaiah 30:18 |
| Disobedience | Obedience | Genesis 22:18 |
| Sin / worldliness | Holiness | Psalm 1:1-3 |
| Disunity / conflict | Unity | Psalm 133:3 |
| Unbelief | Faith / faithfulness | Hebrews 11:6 |
| Lack of mercy | Compassion / love | Psalm 41:1-2 |
So, let's recap for just one moment – what have we seen from God's Word in this short series of articles:
God's blessing is priceless
It is not illusive
But it must be desired and sought
It can be squandered
And it can be hindered
As we start out this new year, let's be determined that we will prioritize the blessing of God for our lives and families in 2014. Turn from anything you know is contrary to His Word and only interrupts our fellowship with Him. Live for an Audience of One, and seek His approval and honor.
"For His anger is but for a moment, His favor is for life; Weeping may endure for a night, But joy comes in the morning." (Psalm 30:5)
The Lord richly bless you this year.