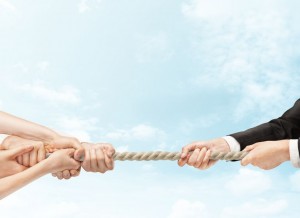 "And when there had been much dispute …" (Acts 15:7)
Isn't this a little embarrassing to be included in the Bible?
Paul and Barnabas arrived back in Jerusalem to get answers from the other apostles. There had been a growing debate about the new gentile Christians, and what was to be required of them. Did they have to convert and live as Jews before they could be considered Christians? Was Christianity, indeed, an appendage of Judaism, still requiring one to keep the covenant of Abraham and all the laws of Moses.
The debate got pretty hot for a while there until the council in Jerusalem came to its decision.
The early church was clearly having a bad day; you'd think that God would have arranged for Luke to just sweep this incident under the carpet, and not include any mention of it in the record, right? Just forget the whole thing ever happened. Too embarrassing.
You know what I've discovered about God? He doesn't get embarrassed about things like we do. He has no problem with airing a little dirty laundry – remember that it's always OUR dirty laundry because of OUR foolishness or sin.  God is wiser and greater than any of it.
And some things are worth fighting for.
1. TRUTH is worth fighting for
Had this dispute not been worked through and recorded – had they swept the matter under the rug and opted for "peace", or tried to placate those who were teaching falsely – who knows what aberration of the gospel might be in our hands today.
The truth in the balance was grace versus law; the sufficiency of Jesus Christ, and our freedom in Him. These things are way too important.
The tag line of this blog is a maxim that Martin Luther once laid down: "Peace if possible. Truth at all costs."  Truth is always worth fighting for.
2. THE WORK OF GOD is worth fighting for
God was doing great things among the gentiles. The future of it was now being jeopardized by this challenge from the Judaizers.
Paul's future missionary endeavors would be affected by the outcome. Would he have the Council's support to freely preach the pure gospel (the endorsement of "those who had been with Jesus")? And would he continually have men following after him preaching "another gospel" and disrupting the work of God?
3. PEOPLE are worth fighting for
This whole dispute at the end of the day was not about incidental doctrine. Precious young believers were in the balance.
The passage ends with another dispute – between the two close friends, Paul & Barnabas.  Paul was still absorbed with point 2 (the work of God is worth fighting for).  He was zealous for God's call, and now John Mark was "the weakest link" in the team.  But Barnabas saw him as someone worth fighting for.
This next dispute was resolved by a parting of the ways. How embarrassing yet again. But God used it to create two ministry teams out of the one.  If we are prepared to continue in love, God can even use our disagreements to further His cause.
Later on Paul was greatly blessed by the stand Barnabas took.  John Mark had become "useful to (Paul) in the ministry" (2 Timothy 4:11)
Some things are worth fighting for.  Truth … The Work of God … People.
We are not called to be  contentious, and we should always want resolution and peace. Sometimes, however, the price of our comfort and convenience may just be too high.