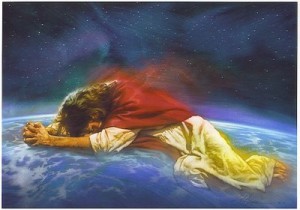 Today is "Ascension Day".
Acts 1:9 … "Now when He had spoken these things, while they watched, He was taken up, and a cloud received Him out of their sight."
And what a sight that must have been. The disciples had recently seen their crucified Lord risen from the dead, and very much alive. They'd witnessed Him appear miraculously in a locked room. But I don't think any of those experiences could have dulled the effect made upon them by seeing Jesus lift off the ground, taken back up into heaven.
John Macarthur says about the ascension of Jesus:
He then took His glorified manhood straight into heaven, all the way back to where He had come from in a completely different dimension than time and space. But He went back different than He had left. He had left as pure Spirit, He went back as pure Spirit and pure glorified humanity. No more just Spirit but glorified humanity. And this is proof that heaven is a place which accommodates glorified humans and it will accommodate us.
Which brings us to a vitally important truth that is part of the great mystery of BOTH the Incarnation and the Ascension: The continuing incarnation!
As the Father loves Christ in His Divine nature, so He also loves Him in His human nature: and as Christ Jesus can no more cease to be man than He can cease to be God, this is the golden and unbreakable link between God and man.  In Christ … deity and humanity, uncreated God and created man, yes even Spirit and flesh, are everlastingly joined.
Why is this so important? As our forefathers of the faith used to say, "We have a Man in the glory!" …
1. Our Forerunner
Hebrews 6:19-20, "This hope we have as an anchor of the soul, both sure and steadfast, and which enters the Presence behind the veil,  where the forerunner has entered for us, even Jesus, having become High Priest forever according to the order of Melchizedek."
Ephesians 2:6 says that we "sit together in heavenly places in Christ Jesus".
In other words, says Myer Pearlman,
This hope of the believers is no delusion, for already they feel the tug of the anchor chain – they are conscious of the drawing power of the glorified Christ.
Have you felt that tug?
2. Our Intercessor
How are the roles of "Intercessor" and "Mediator" different?
A mediator brings two alienated parties together. But an intercessor goes even one step further – He positively appeals on the behalf of one to another!  This is Jesus work today!  He is BOTH Mediator (1 Timothy 2:5) and Intercessor (Hebrews 7:25).
And what a glorious truth to know that our Intercessor is a High Priest "touched with the feelings of our infirmities" (Hebrews 4:15).
Remember His wonderful words to Peter.  It was the night of the last supper, and soon Peter was going to betray the Lord. Jesus knew it in advance, and warned Peter, but He said something so beautiful … "Simon, Simon! Indeed, Satan has asked for you, that he may sift you as wheat. But I have prayed for you, that your faith should not fail; and when you have returned to Me, strengthen your brethren." (Luke 22:31-32)
That's His ministry TODAY!  He's interceding for His Church.  If no-one else in the world remembers to pray for you … Jesus is praying for you!  He is bearing us before the Father.
In the Old Testament, the High Priest used to go in to the holy of holies, and as he did so there were precious stones on his shoulders and over his heart, and on those stones were inscribed the names of the 12 tribes of Israel. He brought them before God.  The writer to the Hebrews says that Jesus is now our High Priest; we need no other.  And what is He doing? He is bearing us on His heart, and on His shoulders, before the great throne of grace.
John Owen, the Puritan divine, wrote:
He leads not in heaven a life of mere glory, majesty and blessedness, but a life of office, love and care also. He lives as Mediator of the church; as the King, priest and prophet thereof.  Herein do our present safety and our future eternal salvation depend.
Dr. Doddridge was a man of God in England, many years ago. He learned of a poor Irishman accused and convicted of sheep stealing, which carried the penalty of death. Doddridge was not convinced of the man's guilt so sought to plead his cause and secure his release, without success. The day came when he encountered the procession that was leading the condemned man to his death. The march came to an abrupt halt, when the prisoner beheld his friend who had interceded so fervently, and flung himself at his feet, saying, "Dr. Doddridge, God bless you! Every drop of blood in my body loves you, for you tried to save every drop of it."
That poor man loved an "intercessor" THAT FAILED. Jesus, on the other hand, has never lost a case – and He will never fail in His advocacy!
The Conclusion of the Matter
Revelation 1:18 –  The words of the Ascended Lord: "I am He who lives, and was dead, and behold, I am alive forevermore. Amen. And I have the keys of Hades and of Death."
And to the disciples He promised: "I go to prepare a place for you. And if I go and prepare a place for you, I will come again and receive you to Myself; that where I am, there you may be also." (John 14:2-3)
In the words of the Apostles' Creed:
I believe … He ascended into Heaven, and sitteth on the right hand of God the Father almighty;
Happy Ascension Day!